Thu 6/23 – Top Gun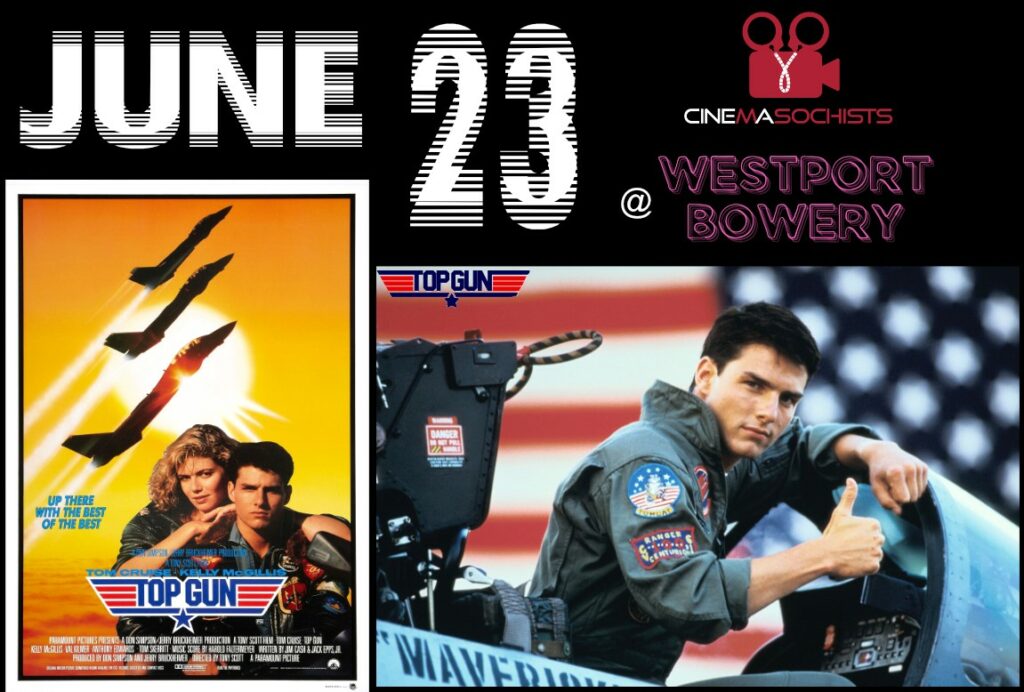 Tickets are available from Eventbrite or at the door for $5.
You can RSVP on Facebook.
Event Information
For Lieutenant Pete 'Maverick' Mitchell and his friend and co-pilot Nick 'Goose' Bradshaw, being accepted into an elite training school for fighter pilots is a dream come true. But a tragedy, as well as personal demons, will threaten Pete's dreams of becoming an ace pilot.
What Happened?!
Cinemasochists' What Happened?! series includes a presentation on the making of the chosen film, followed by a live riff performance in the tradition of MST3K. This month as part of Cinemasofest, we're bringing one of the most successful movies of the 1980s from long before Top Gun: Maverick was a gleam in Tom Cruise's definitely-just-shorter-than-Anthony-Edwards' eye…
The presentation will be followed by a screening of the film with a comic commentary by Bess Hayles, Dale Maxfield, and Matt McCann with special guest Tim Marks. Come and enjoy dinner and a show right in the heart of Westport!
Venue
The Westport Bowery is located inside the rear entrance of the Westport Flea Market Bar & Grill. Order your delicious food right inside the venue from your server or our new bar! A live bartender will be on duty so you never have to miss a line just to get another beverage.
Westport Flea Market
817 Westport Road
Kansas City, MO 64111
RSVP and secure your tickets early with Eventbrite:

https://www.eventbrite.com/e/cinemasochists-riff-top-gun-tickets-354659033717
Presenters: Bess Hayles, Matt McCann, and Dale Maxfield with special guest Tim Marks
If you want to support Cinemasochists, you can buy or rent Order 86, the first commercially released Cinemasochists riff. It is available now on Vimeo and DVD.
Top Gun (1986)