Tue 5/17 – New York Ninja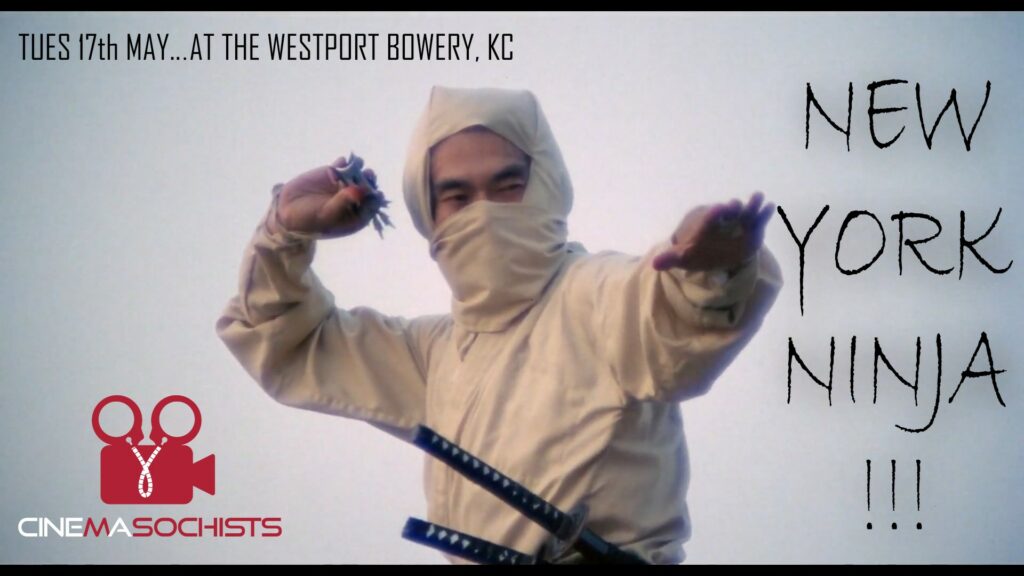 Tickets are available from Eventbrite or at the door for $5.
You can RSVP on Facebook.
Event Information
Shot guerilla-style in 1980's New York, New York Ninja was never finished. After the unused footage was discovered by the film preservationists and distributors at Vinegar Syndrome, they painstakingly rebuilt the movie including full ADR and sound. Not even the script survived.
What Happened?!
Cinemasochists' What Happened?! series includes a presentation on the making of the chosen film, followed by a live riff performance in the tradition of MST3K. This month, we are presenting a look into the story of an independent film that was never completed until the preservationists at Vinegar Syndrome bought it and were able to edit it into something close to a cheesy '80s action movie.
The presentation will be followed by a screening of the film with a comic commentary by Bess Hayles, Dale Maxfield, and Matt McCann.Come and enjoy dinner and a show right in the heart of Westport!
Venue
The Westport Bowery is located inside the rear entrance of the Westport Flea Market Bar & Grill. Order your delicious food right inside the venue from your server or our new bar! A live bartender will be on duty so you never have to miss a line just to get another beverage.
Westport Flea Market
817 Westport Road
Kansas City, MO 64111
RSVP and secure your tickets early with Eventbrite:

https://www.eventbrite.com/e/cinemasochists-riff-new-york-ninja-tickets-290937340417?fbclid=IwAR2_L_xU0GP8k6fGcGpnBT_MbJdDaaLE4BRNY_p3HUKrlTFJE8botf1tZjw
Presenters: Bess Hayles, Matt McCann, and Dale Maxfield
If you want to support Cinemasochists, you can buy or rent Order 86, the first commercially released Cinemasochists riff. It is available now on Vimeo and DVD.
New York Ninja (2021)